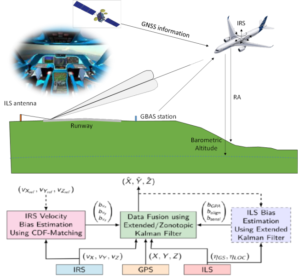 COCOTIER (COncept de COckpit et Technologies Intégrées En Rupure, 2019-2023) is a collaborative project on new technologies for future intelligent cockpit in Single Pilot Operations (SPO, 2030+). The project is supported by the French Directorate General of Civil Aviation (DGAC) and coordinated by Airbus.
Budget : DGAC support : 17.3 MEuros – Total budget : 34.6 MEuros.
Partners : 14 industrial and academic partners:
Industrial partners : Airbus (coordinator) – Dassault aviation – SAFRAN – Thales – ATR – Factem – OKTAL Synthetic Environment – Ratier Figeac – Vodea – Zodiac Aero Electric.
IMS project managers : Prof. Ali Zolghadri and Dr. Christophe Combastel. Postdoc fellow: Sara Ifqir (2019-2021); Master students: Martin Faure (2019), Nicolas Bandet (2021).
News:
The last plenary meeting (all partners) of the project took place on November 29, 2021 at Airbus, Toulouse-France. The IMS presentation during this meeting can be downloaded at here (authorized members only).
IMS delivrables:

Related publications:

Ifqir S., C. Combastel, A. Zolghadri (2021). Set-based Multi-Sensor Data Fusion For Integrated Navigation Systems. 5th International Conference on Control and Fault-Tolerant Systems (IEEE SysTol). Saint-Raphaël, France, Sept 29 – Oct 1, 2021. pdf (paper) – pdf (presentation).
Ifqir S., C. Combastel, A. Zolghadri, G. Alcalay, P. Goupil, S. Merlet (2021). Multi-Sensor Data Fusion For Civil Aircraft IRS/GPS/ILS Integrated Navigation System. European Control Conference (ECC). Rotterdam, The Netherlands, June 29 – July 2, 2021. pdf .
Ifqir S., C. Combastel, A. Zolghadri, G. Alcalay, P. Goupil, S. Merlet (2022). Fault tolerant multi-sensor data fusion for autonomous navigation in future civil aviation operations. To appear (June 2022) in Control Engineering Practice. pdf.